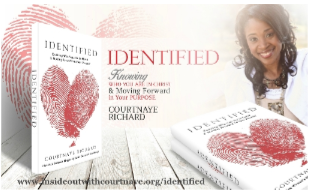 Get to know Courtnaye Richard! Courtnaye is an inspiration to us! She is a devoted follower of Jesus Christ., blogger, author, women's conference speaker, and the founder of "Inside Out with Courtnaye.," a ministry designed to help women grow in their walk with Christ from a biblical and practical perspective, but also equip them to walk out their God-given purpose effectively. Courtnaye is also a wife, mother of three kids and she loves waking up to the fresh brewing of French Vanilla coffee to help jump-start her day!
MVW: What inspired you to write IDENTIFIED?
Courtnaye: I know this might sound super spiritual, but really, it was the Holy Spirit. I honestly was going to write on something else. I mean, I had the title for another book. I'd already written the introduction and back cover text. Yet, all of a sudden, when I opened up my Bible one day, I looked down and there was Isaiah 55:8, staring me right in the face. It read, "For my thoughts are not your thoughts, neither are your ways my ways, saith the Lord." At that moment, I knew it was what I call a "God-shift." I knew the Holy Spirit was leading me in another direction to write on something else. 
Read more of Courtnaye's Interview in Memoirs of a Virtuous Woman's Magazine Issue focusing on Healing from Past Wounds. Get yours in print or digital HERE.