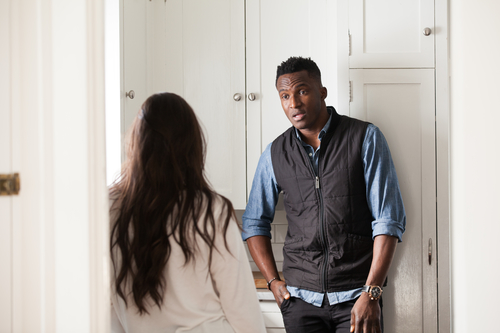 In my 20's and before I married I routinely vacillated between feeling "single and satisfied" and feeling "desolate and depressed." One minute, I was excitedly making travel plans with girlfriends, and enjoying sole control of the remote.  The next minute I was complaining to my friends about the lack of "good men" and whining to God about my missing husband.  It's almost funny now, but of course I wasn't laughing then.
During these times I engaged with various suitors…of various quality to say the least.  Most of them pursued me and tried their hand at winning my heart.  Others however, thought it was my job to pursue them.  
And I'm a little ashamed to say…I did.
Before you start judging ladies, don't act like you've never done it.  I know I'm not the only girl that called a guy who never called back.  I'm certainly not the only girl who texted a guy who routinely took hours to text back, if at all.  Most of my girlfriends have dealt with guys with whom they had to initiate dates, calls, and texts. Many of us have had at least one guy who despite our best efforts to convince him otherwise was "just not ready for a relationship," or my favorite didn't "believe in titles."
As much as I'd love to judge those guys and call them on their foolery, I realized the other day that I act exactly like them-toward God. I'm the one ignoring communication attempts. I'm the one that has to be chased down. I'm the one who is too busy doing other things, with other people.  I'm the one saying in one way or another that tired old line: "I'm just not ready for a relationship."
And you might be too.
God longs to be with us, to talk to us, and to hear from us.
You have said, Seek My face [inquire for and require My presence as your vital need]. My heart says to You, Your face (Your presence), Lord, will I seek, inquire for, and require [of necessity and on the authority of Your Word]. Psalm 27:8 AMPC
It is we who put Him on the back burner or ignore Him altogether-until we need something of course.  I know there have been many times when I have ignored the internal urge to turn off the television and read the Word. There have certainly been times when God has prompted me to pray while I sit in traffic and instead I call a girlfriend to chat (or say a quick prayer, but then grab the phone anyway).  As I go about doing my own thing God continues to love me. As I keep wondering why I'm overwhelmed or frustrated about one thing or another, He is there patiently waiting for me to come to Him and stop trying to carry it all on my shoulders.
"And therefore the Lord [earnestly] waits [expecting, looking, and longing] to be gracious to you; and therefore He lifts Himself up, that He may have mercy on you and show loving-kindness to you. For the Lord is a God of justice. Blessed (happy, fortunate, to be envied) are all those who [earnestly] wait for Him, who expect and look and long for Him [for His victory, His favor, His love, His peace, His joy, and His matchless, unbroken companionship]! – Isaiah 30:18
My goal is to to continue to focus on making God truly first in my life. Not in the way that is just lip service, but in a way that is obvious to a stranger without me saying a word. In a way that isn't preachy, but is such that I can truly rest in Him-no longer concerned with things I can't control. I believe that this is where the true joy and peace lie.
I think we all know deep down inside that a truly fulfilling journey through life can't be taken without God at the wheel. He can't be in the backseat. He can't be the GPS to direct me when I get lost.  He can't be riding shotgun.  He has to be driving.  If He's not at the steering wheel I'm simply on a journey to nowhere except perhaps to more frustration and struggle.
As we get settled into the New Year I am excited about this journey. It won't be without bumps, they are to be expected.  But giving God the wheel is a much more peaceful and far more blissful place to be in.  Thank God for His relentless love.  Thank God that He pursues.  Thank God that He is so into us.
How has God been tugging on your heart recently? Let me know below in the comments!
About the Author:
Ayesha Keller is a lover of Jesus, wife, and mother of two rambunctious boys. She is also an assistant social work professor, blogger and vlogger.  You can read her blog here and visit her YouTube channel here.