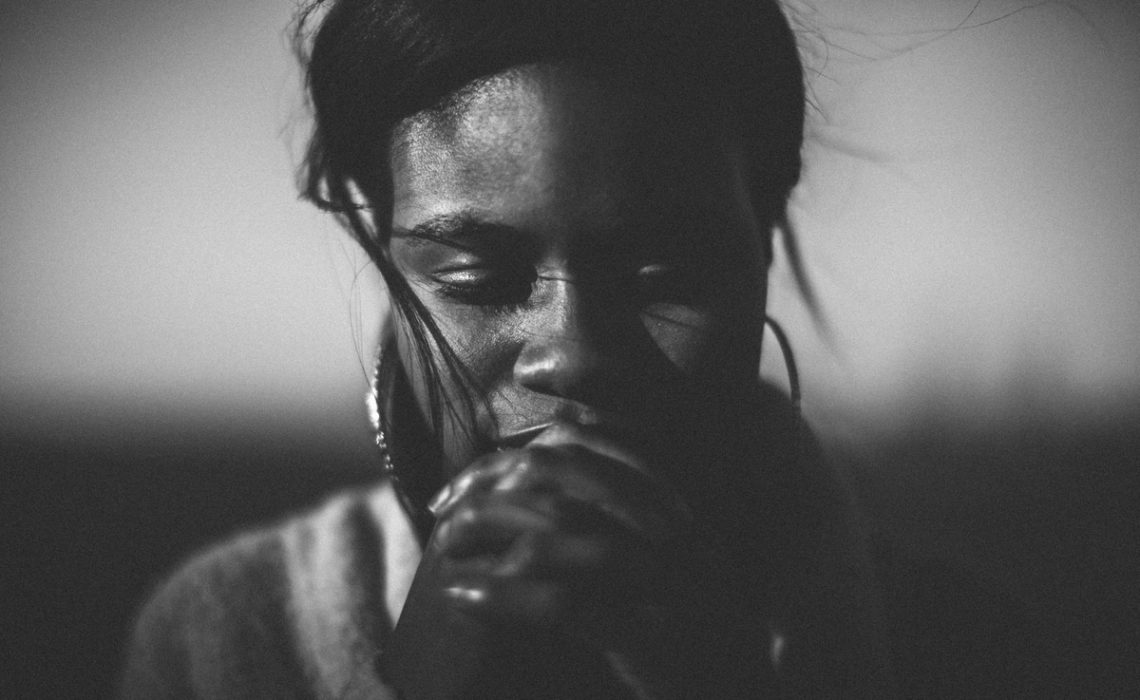 I have a confession.  Me, an active member of my church body, someone involved in ministry, and a woman who loves the Lord dearly.  I have struggled with postpartum depression and anxiety.  At first, this was a source of shame for me.  Nights without sleep, days with intrusive thoughts, mood swings, and weepiness…  These were my constant companions.  I was irrationally fearful that the next moment would bring something terrible into existence.
For those of you out there who have dealt with depression before, you understand its paradoxical nature: while it takes over your life, it goes completely unnoticed by those around you.  Those closest to me were oblivious to my inward battles, leaving the people in my household to face it alone.  This is what fear does.  It isolates and multiplies, divides and conquers.  I knew I needed help to find my way out of the hole I was in.  It was at this time that I made a serious error.  Rather than opening up the Word, I opened a different book.
 I looked first to psychology instead of seeking help from the Great Physician.
Now, before the assumption is made that I have anything against psychology, let me assure you, I do not.  The study of the mind, how it's shaped, affected and changed has great value.  It can be an extremely valuable tool in the tool belt of someone who deals with fixing what has been broken.  But, how often do we put our trust in the tool instead of the one who wields it?  I found myself focused on my mind… how to alter the patterns, how to redirect the processes and reinforce where it was weak.
 I allowed myself to become so preoccupied with the physical problem that I neglected the potential for a spiritual solution.
It was in this pursuit that I stumbled across a mantra.  "You are enough."  I was affirmed that I was good enough.  I was strong enough.  I was beautiful enough, smart enough and brave enough.  Daily, I repeated these words to myself, each time hoping to believe them and start to feel more steady.  The harder I tried, the worse I felt.  Not only did I not feel good enough, I felt like a liar and a fraud.  The more this world tried to soothe me, the more I ached for something else.
As time passed, I had to address the growing awareness within myself that I am NOT enough.  We were never meant to be enough.  I made the decision then to do what I should have done from the start.  I closed the books. I checked out from my library, put down the self-help journal, asked some close friends for prayer, and opened my Bible.
And He said to me, 

"My grace is sufficient for you, for My strength is made perfect in weakness."

 Therefore most gladly I will rather boast in my infirmities, that the power of Christ may rest upon me.  ~2 Corinthians 12:9
In myself, I'm not good enough.  But HE is.
"…No one is good but One, that is, God." Mark 10:18
In myself, I'm not strong enough.  But HE is.
"The name of the 

Lord

 is a strong tower; 

The righteous run to it and are safe." Proverbs 18:10
When I stopped trying to generate sufficiency within myself, I was reminded that all that I need is found in Jesus.
"His divine power has granted to us all things that pertain to life and godliness, through the knowledge of him who called us to his own glory and excellence, by which he has granted to us his precious and very great promises, so that through them you may become partakers of the divine nature, having escaped from the corruption that is in the world because of sinful desire."  – 2 Peter 1:3-4
I learned two valuable lessons from my season of instability.
1.
Jesus is enough for ME.
Everything I need is found at the foot of the cross.  The answers to the things that plagued my mind were found in His word and I am constantly being reminded that when I am afraid, I can trust the Lord. He is sovereign.  He loves me and desires my best at all times.  (Jeremiah 29:11)  When I laid awake at night, I made it a priority to spend that time in worship of the Lord instead of in fear of what the darkness would bring.  (Psalm 91:5)  If I felt overwhelmed and discouraged, I knew I could press into the Lord and take shelter in Him.  (Psalm 61)  When intrusive thoughts disrupted my peace, I practiced taking them captive before the Lord. – 2 Corinthians 10:5
2.
Jesus is enough for the people around me.
As I stopped dwelling on myself and my inadequacies, I was able to trust the Lord more with my family.  As wives and mothers, daughters, sisters and friends, we put so much pressure on ourselves.  If I'm not the one to see a problem coming and prevent it from occurring, who will?  Isn't it my job to make sure nobody around me is ever hurt, burdened, or disappointed?  I had my joy so hopelessly intertwined with how everyone else was doing, I was weary in an endless battle for control.
My control issues began to take root while I was still pregnant.  It started with wanting control over the delivery of my youngest baby.  After planning and hoping for a home delivery, she came into the world in an operating room rather than my living room.  When things didn't go as planned, it progressed into wanting control over my home.  When I couldn't master that either, I needed control over how people perceived me.  I portrayed a calm and thriving home on social media when in reality, I was a mess.  Many evenings were spent hiding in the shower so nobody would know I was crying for no particular reason.  Failure was my stalker, always just over my shoulder should I stop running from it even for a moment.
Oh, how my heart needlessly worried.  This heart of mine… It's always causing me grief!  I had to surrender my sinful need for control over to Him.  Proverbs 12:25 tells us rightly that "an anxious heart weighs a man down."  I was so burdened down with anxiety, life literally felt heavy and I struggled to carry my day-to-day tasks.  But here is one of the sweetest verses.  I encourage you to commit it to memory.
"When anxiety was great within me, your consolation brought joy to my soul."- Psalm 94:19
I was consoled when I remembered to trust the people I loved, the responsibilities I had, and the relationships around me into the hands of a capable and compassionate Father.  This realization has brought me more healing and peace than any self-focused mantra ever could.  The joy my heart so thirsted for didn't come from within.  My "what if" could only be overcome with "who is."  Who is Jesus?  Jesus is my Savior.  He is my Lord.
He is enough.
If you or someone you know is struggling with depression or anxiety, help can be found here.
About the Author:
Regina Dean is a stay at home mama to four spunky kids and the wife of a wise spiritual leader.  When she's not writing, she can be found serving in worship and children's ministry, homeschooling her children, and farming in her backyard.
Have You Read Our Latest Magazine? 
If features articles and interviews surrounding healing from past wounds. Get yours in print or digital HERE.