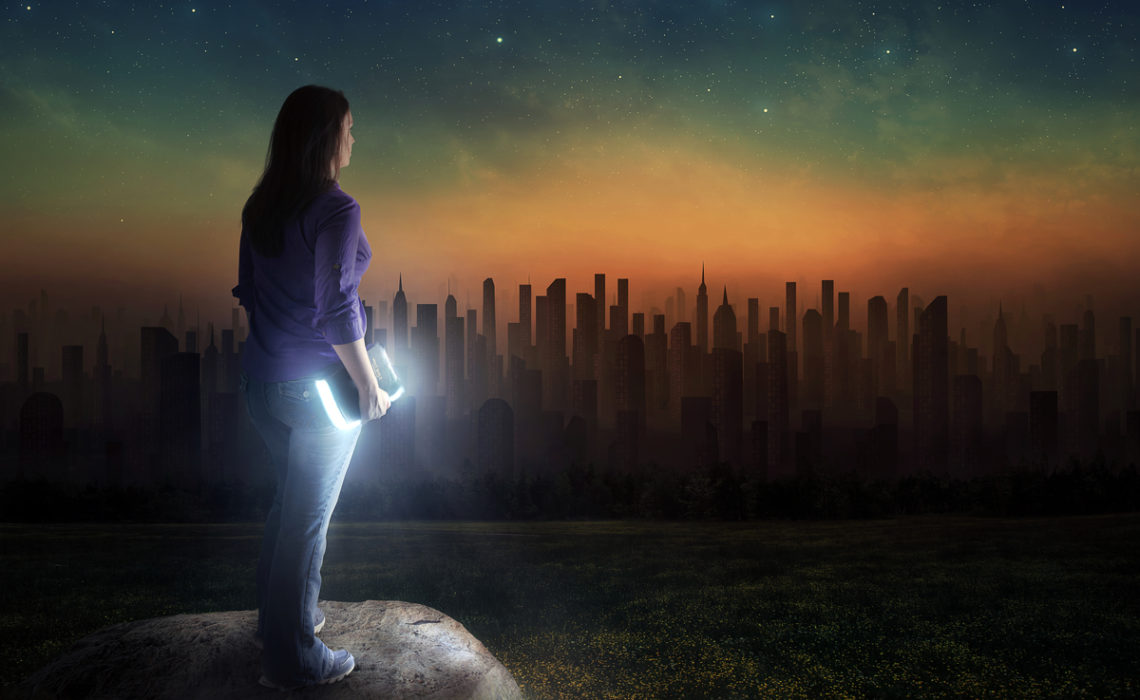 Psalm 121:1-2 sings, "I will lift up my eyes to the mountains; from where does my help come? My help comes from the Lord, who made heaven and earth."
A lowly preacher laid those words on my heart many months ago, but I still think of them now during times of stress and hardship. Sometimes I forget that God made the hills behind my house, created me with an utmost purpose, set me on a path that is filled with more wonders than I could imagine. His words brought life to the universe in the book of Genesis.
The same breath he used to breathe Adam into life is the same breath he gave up to save us.
There are three types of faith.
One is the belief that God can do something. It's easy and noncommittal. If the situation doesn't work out in our favor, we won't be too heartbroken.
Another is the belief that God will do something. We just have to wait to rejoice. We have to wait to show him praise.
The last type of faith is the belief that God has already done it. Why should we worry and fear when in the end we still win?
I am a part of a drama ministry team that goes around to churches and schools and perform faith-based sketches and workshops. It is one of my favorite things about attending college and the people on my team have grown to be my very best friends on campus. During the summer, I couldn't wait till the week before classes start because that's when we rehearse our rep for the school year.
Last year was my first year on the team and it was a brand new group of people. We were all ready to serve and love people when we were given our parts at the beginning of the summer, but when we finally met for the first day of rehearsal in August, something was a little wrong with all of us.
Three of us were still hurting from painful breakups with a significant other. My father had just undergone open-heart surgery the week before and was now in a slow recovery. One team member completely lost her voice so she couldn't run lines normally. Another had lost his dorm room because of a flea infestation from the previous tenant's dog. Our director's beloved pet was dying.
We were all facing our own hardships and heartaches and none of us really felt like praising God.
"This isn't a coincidence," our director said as we all shared our mix-matched and poor circumstances. "We are all going through hardships at the exact same time, right at the most crucial time of this ministry. Something is afraid of us."
That's when we all knew that this group would do great things, that God would use this drama group in ways we couldn't imagine.
The Bible states in Ephesians 6:12, "For our struggle is not against flesh and blood, but against the rulers, against the authorities, against the powers of this dark world and against the spiritual forces of evil in the heavenly realms."
It doesn't mean we have disobeyed or sinned. When hard things happen to us, it's because Satan wants to create a roadblock between you and your destiny with God. Satan is "a liar and the father of all lies" (John 8:44). He wants us to doubt, to turn around, to get mad at God.
The Enemy hates plans of ministry and mission. Paul tells us many times how his plans were diminished because of the work of darkness. 1 Thessalonians 2:17–18: "We endeavored the more eagerly, and with great desire, to see you face to face; because we wanted to come to you… but Satan hindered us."
That was what was happening to my drama group. He was trying to pull us apart from each other and from God, isolate us in loneliness and hurt. He didn't want us to spread God's Word and his hope and love for us. He was hitting us where he knew it would hurt.
But instead of falling into sin like Satan wanted, my group grew closer together.
We prayed those days for strength, for peace. What was meant to divide us only brought us closer. While our season that first year didn't look the way we wanted it to, this year almost every Sunday for the fall semester is booked.
We had to remember that these trials will only bring us closer to God, helping us to look more like Jesus. "So that the tested genuineness of your faith—more precious than gold that perishes though it is tested by fire—may be found to result in praise and glory and honor at the revelation of Jesus Christ" (1 Peter 1:7).
About the Author: 
Ellie Zumbach is currently a student at Malone University studying Creative Writing and Theatre. From a very young age, she has loved stories and their power to encourage, teach, and inspire. She is a proud member of a drama ministry team known as the Chancel Players and a co-director of the Writers Guild on campus.  Welcome Ellie as she shares her words with "Memoirs of a Virtuous Woman" readers as an intern for Fall 2017.
Have You Read Our Latest Magazine? 
It features articles and interviews surrounding finding your purpose. Get yours in print or digital HERE.