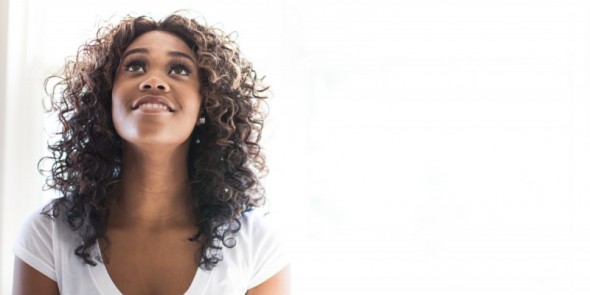 As my mother lay ill, just a couple of days from passing away, I actually understood that God's grace was all I needed; so at age seventeen, I prayed a salvation prayer. As I took my fun-sized bible and sat Indian style in the center of my twin-sized bed, I made the decision to accept Christ as my personal savior by acknowledging that Jesus is the son of God, who died on the cross for my sins and was raised from the dead. And in an instant, I became a brand new person (2 Cor. 5:17). I didn't just start a new phase in my life or checked off a task on my to-do list, I had started a new life under a new master. Now, at that time I didn't fully understand the change that happened but I do know that in my time of weakness I was made strong (2 Cor. 12:9). My identity had changed. My new identity now required me to have a new perspective on all things. His perspective.
I stand firm on my belief that before God even made the world that it was in His plans to save me and I wholeheartedly believe that He chose to use his son, Jesus Christ, to make me holy and blameless and that He decided in advance to adopt me as His child (Eph. 1:4-5).
A Two-Way Street
In that moment, I was filled with the Holy Spirit and since then, the comfort of the Holy Spirit has met me many of days. But honestly I wasn't as nice to Him as He was to me. Mainly, I didn't spend time getting to know Jesus – the one my heart cried out for in the moment of my darkest hour. It was like I told Him I was moving in but never showed up, called or anything, until I needed shelter from a storm and was allowed in with no questions asked. Now that I am more spiritually mature, I look back on that time and see the sadness that I caused. I never want to make God, His son or the Holy Spirit sad like that ever again! No more saying I will be there and not showing up. No more knowing of Him and not knowing Him. No more one sided relationship. Who has time for people like that in their lives?  I don't. I don't want to be treated like that as a person, friend, wife, colleague, etc so why would I mistreat Christ like that.
So I got to know Him better – still am – and truly came to terms with that fact that this new person I had became at age 17 was supposed to be a reflection of Him. My life should be similar to how Jesus lived His life. It wasn't. Now it's closer – still not perfect of course but definitely an improvement!
Boldly and Confidently
I once relocated to a new city completely on faith and a savings account. Leased an apartment online – site unseen, booked a long distance moving company and went on my journey – unemployed for seven months. Let me tell you, I only made it through that journey by the incredible greatness of God's power (Eph. 1:19-20).  That time of growth perfected my endurance. Because of experiences like that, I am confident that I am His. I truly know that He will never leave me. I was able to walk by faith through that situation because I knew my true identity in Christ. I knew there was nothing too difficult for me to face because I am His. Because of my union with Christ I can tap into God's power for any circumstance. I know that I can come boldly and confidently into God's presence and so can you (Eph. 3:12).
Walk in These Truths
My life is a testimony to the loving kindness of God. His power, mercy and favor. His unfailing love and faithfulness. As you reflect on your true identity in Christ, take these key points with you:
Only God can save you by grace through faith in Jesus Christ (Eph. 2:8-9)
It was in God's plan to create you and save you long ago (Eph. 1:4)
You are God's masterpiece and He made you new in Christ so you can do those good things He planned for you (Eph. 2:10) – so go do them
God is loving and merciful and His Grace is sufficient for you –It's all you need. (Eph. 1:7-8 and 2 Cor. 12:9)
Once you believed in Christ, God identified you as His own and gave you the Holy Spirit (Eph. 1 :13-14)
The key to spiritual growth is spending time with God and getting to know Jesus (Eph. 1:17-18)
There is nothing too difficult for God (Jer. 32:27)
Do not live in fear because Christ is the ultimate authority over everything and everyone (Eph. 1:21)
About the Author:  A
licia Castile is fondly referred to as the "Chief Maximizing Officer" for her ability to take something strong and transform it into something superb. Alicia is a devoted wife and nurturing mother who uses her gift of discovering the unique qualities of others as a Self-Awareness Coach.  She also creates inspirational art and sells personal growth workbooks in her new Etsy shop, The Alicia Castile Studio (www.aliciacastilestudio.etsy.com).