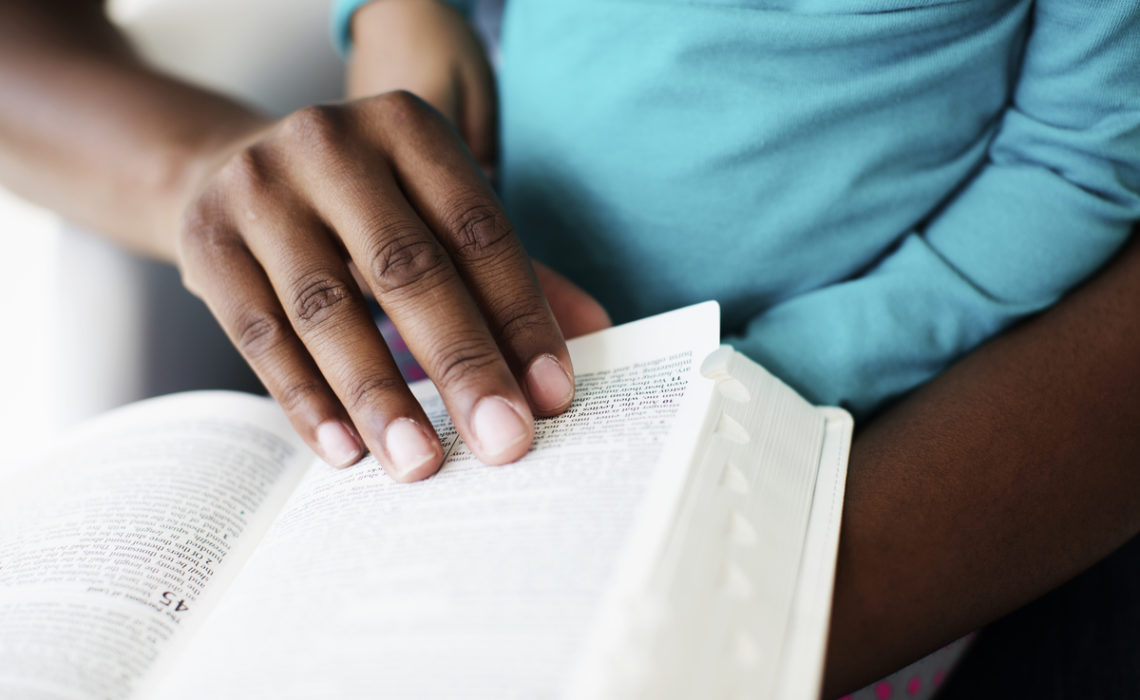 "Start children off on the way they should go 

and even when they are old they will not turn from it." – Proverbs 22:6 
What does it feel like to lose a mother? What does it feel like to lose both parents? My mom's passing has reminded me of a nightmare that seems impossible to wake up from. It's a flashback to 15 years ago when we both were faced with my dad's passing.  Yet this time it's different. I'm left to face my new reality without any parent by my side. As I continue my journey of healing and gaining strength from the Lord, I'm constantly reminded of what she left behind – a love for God's word.
Anyone that has met my mom or fellowshipped with her can tell you how much she loved God's word. "That Bible, she loved her Bible!" Those are the words from one pastor shortly after her passing. A few weeks have gone by since then and I find myself thumbing through her bibles, taking in all the golden nuggets from her highlighters, sticky notes, and index cards that are intricately placed throughout her Bibles. Her faithful love for the Lord, while learning and obeying his word is what has kept me on the narrow path.  One of my favorite authors, Nancy Demoss Wolgemuth reminds me of this truth:
"Younger women need mothers in the faith to take them by the hand, to help them keep their mind on Christ."
I'm blessed to have borrowed her for 30 years as she instilled these lessons into me. These may seem a bit simple to some but we have to remember that not everyone trains their children up on the narrow path.
1. Never Waiver in Faith
Anytime my faith would waiver in something, my mama would quickly steer me in a different direction. "Danielle, don't you know that God is up there!" Obviously, I did know. But it did take her firm voice to get me back on the right path.
2. Work Unto the Lord
Why do I go above and beyond when it comes to my job or creative endeavors? For one the Bible tells us in Col. 3:23-24, "w
hatever you do, work at it with all your heart, as working for the Lord, not for human masters,
since you know that you will receive an inheritance from the Lord as a reward. It is the Lord Christ you are serving." It's something that my mom has always instilled in me as she would faithfully "greater is coming!" 
3.) Cut the Negativity, Grow in Gratitude 
I will miss my mom being a listening ear to things I face but one thing she reminded me of was not to complain! Don't grumble at certain tasks or situations. Find the good and push through!
4.) Love Everyone as Christ Loves You
My mama was someone that everyone enjoyed talking to. Whether it was old friends or complete strangers she was someone that others would definitely remember because of her kind heart. My parents were an amazing example of this. They kept several foster children-from toddlers to teenagers, in our home while I was growing up. Their love for children was undeniable as they opened their home up to serve others.
5.) Don't Give Up on Your Dreams 
Earlier this year my mama gave me an old business card that belonged to her. It was for her flower nursery that she opened years ago. She was so proud of it and I was for her! In fact, that's not she had. In addition to her green thumb, she had a love for animals which explained her field full of animals that she took care of daily, near her flower nursery. Her card serves as her reminder to me to keep pushing toward my goals. From time to time she would mentioned how she knew I loved to write and how I wanted to serve others with it. She was confident that one day I would be successful in doing exactly that. I could always count on her to share something I was "up to" when it came to writing.
6.) Be a Giver 
My mom was a genuine giver!! For those close to her she would carefully pick out and buy clothes or unique items that fit them. She spent hours doing this and found so much joy in knowing that the person receiving the gifts loved it.
7.) Save and Invest 
I've never been a materialistic young lady. I would rather save than go on a huge shopping spree. It's just one thing that sticks with me from my mom. I'd rather invest in something that will contribute growth for my future.
8.) Use Discernment
My mom fit the description of being a hearer and doer of God's word. She was on point when it came to anything that contradicted the Bible. She wouldn't stand for it and she taught me the same thing.
9.) Forgive Others 
Get rid of all bitterness, rage and anger, brawling and slander, along with every form of malice. 
Be kind and compassionate to one another, forgiving each other, just as in Christ God forgave you." – Ephesians 4:31-32 
For some, it's easier said than done but it's possible! My mom instilled this in me at a young age.
10.) Be Patient 
Sometimes it seems as though I'm the worst person when it comes to being patient for something. I have to remind myself that everything happens on HIS time and not on mine. "Just be patient Danielle," is something my mama would always say if she caught onto the smallest hint of my discontentment.
Along with these lessons from my mother, I have my last moment with her to carry me though this process-her final moments on this earth as I sat by her hospital bed, praying to the Lord to protect her, telling her how much I loved her, and singing her favorite church hymns until her spirit left. Whether she heard me or not, I'm thankful that I had the opportunity to be there as she transitioned. Through my tears, I find peace in knowing she was rooted in Christ and that one day we will all rejoice at a great meeting around God Almighty's throne.
Mother of mine, how I miss you. Shining in my heart, is a portrait of you-that Proverbs 31 woman that we all adore. Your outpour of prayers covered me. Your wisdom and faithful instruction gave me strength. I honor you for your life's reflection of scripture. Mother of mine, your pain is gone but the memories of your work for the Lord remain….
– Danielle Wallace, Founder of Memoirs of a Virtuous Woman 
Are You Grieving the Loss of a Loved One? 
I would like to share a few scriptures that will prayerfully comfort you also:
Ecclesiastes 7:1,1 Thessalonians 4:13-14,1 Thessalonians 4:17-18,1 Corinthians 2:9, John 14:1-6, Psalm 34:18, Psalm 73:26
Have You Read the Latest Magazine? 
It features articles and interviews surrounding finding your purpose. Get yours in print or digital HERE.