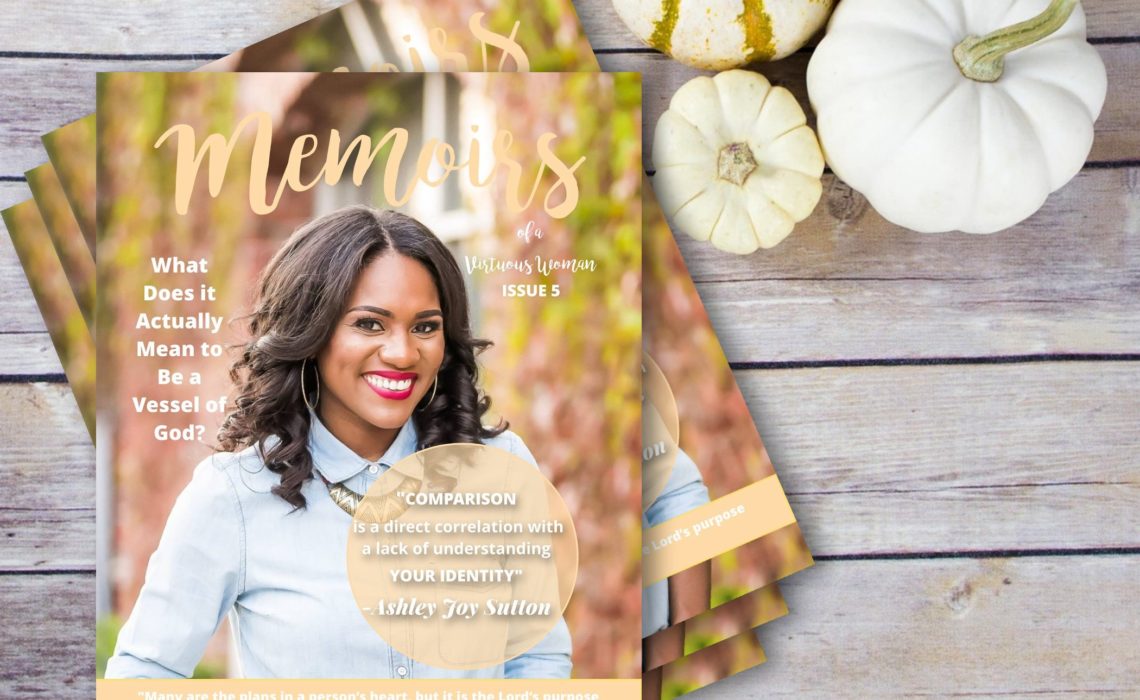 Greetings ladies! Can you believe that we have made it to Memoirs of a Virtuous Woman's 5th magazine issue?
What a blessing it is to share with you more words of encouragement on the narrow path. This issue may be my favorite yet! Since starting in 2013, this site has included a few articles on the topic of purpose and this issue will serve as an extension of that. Proverbs 19:21 serves as a reminder of letting God lead the way on the cover, "

Many are the plans in a person's heart,




    

but it is the 

Lord

's purpose that prevails." 
What can you find inside? For one, challenging articles that will hopefully push you in walking in the purpose Christ has for you. One particular article that I'm sure you will all enjoy is by contributing writer Nina Dafe called,"How Cups, Ships and Veins Hold the Secret to Your Purpose."
Here's a peek of that article:
"As in the case of cups or containers, they literally have their contents poured or placed inside them. Once this occurs, these vessels house their contents and keep them safe until we're ready to draw them out again- and we are the same. God has bestowed us with gifts such as our personalities, intellect, talents and the Holy Spirit. We are vessels of these things whose purpose is to house them and keep them safe, as stewards, ready to pour them out for God's glory as and when He directs."
There are also 3 amazing women that are featured interviews.
Ashley Joy Sutton

Ashley works with women, empowering them to walk in their purpose. Here's what Ashley has to say about her walk with these women:

"I know what it feels like to have a sense of longing on this earth but never being satisfied. From a young age, I vowed to be what I never had, and that was a mentor to coach women on their purposeful journey. I don't know why God gave me this passion, but I don't ever remember not having it."
Hannah Ashton 

Hannah is by far one of my favorite YouTubers that isn't afraid to share her faith in Christ to her viewers. I admire her because she reminds me a lot of my younger self. At 18-years-old she's balancing high school while also delivering encouraging content through her YouTube channel, blog, and podcasts. She has taken what she has learned as a young entrepreneur to help other creative ladies like herself.  I asked Hannah about her content making a difference for women that are in an older audience. Here's what she had to say:

"The amazing age range in my audience tells me that there is always something new to learn. I love being able to teach an older generation things I learn in my generation and it's comforting to know they trust me in the area I teach. I hope in my 20's and 30's that I will continue to have a passion to learn about areas I'm not familiar in, just like the women who watch my videos do. " 
Megan Pettus
Megan is busy telling stories behind the camera as a videographer and photographer. Her specialty? Weddings. Here's a snippet of her interview in which she talks about serving one her clients:
"People come into our lives for a reason. I'm not sure what you believe, but I believe God brought us together for a specific purpose. During this time, she's not just a client, but an opportunity to serve and uplift. I'm so grateful for that opportunity. That's why I do what I do. Service before self, always."
I'm not sure about you but these interviews and articles included are sure to guarantee that this magazine will be a page-turner.  I can't wait to share it with you! For updates on the release which will prayerfully be before October ends, simply subscribe to the email list where each week will you not only receive updates but weekly devotionals. Also, all new email subscribers receive a couple of free resources! If you're already an email subscriber pass the info along to a friend that you feel would benefit from it as well.
Thanks for stopping by again to read Christ-centered content at Memoirs of a Virtuous Woman.
Continue to be blessed!
– Danielle Wallace, Founder of Memoirs of a Virtuous Woman