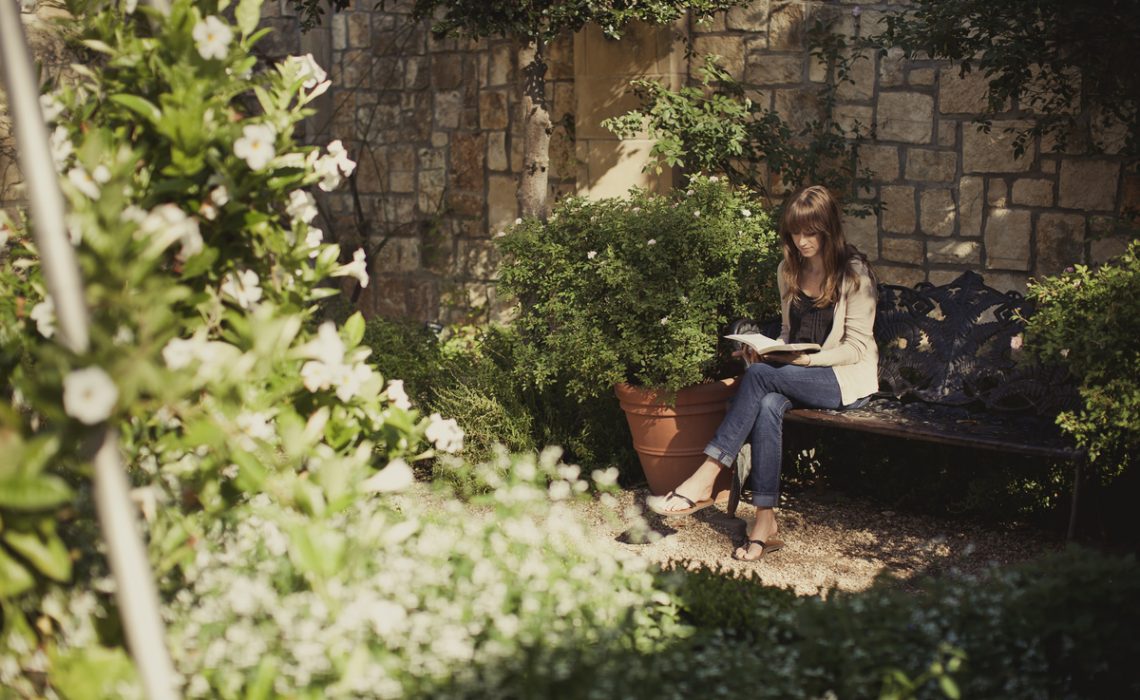 John 20:16-18
"Jesus said to her, "Mary."
She turned toward him and cried out in Aramaic, "Rabboni!" (which means "Teacher").
Jesus said, "Do not hold on to me, for I have not yet ascended to the Father. Go instead to my brothers and tell them, 'I am ascending to my Father and your Father, to my God and your God.'"
Mary Magdalene went to the disciples with the news: "I have seen the Lord!" And she told them that he had said these things to her."
These were the same words that inspired C. Austin Miles to write down the famous hymn, "In the Garden." One night in April in the year 1912, the Holy Spirit gave Miles the image of a woman in white bowing down before Jesus. He wrote down the lyrics as they came to him and soon added the tune. It is still sang exactly the same way so many years later.
"I come to the garden alone. While the dew is still on the roses…"
I would like to set the scene of this hymn alongside the Scripture.
Mary Magdalene walks through the garden alone that morning to pay respects to Jesus. There is one major expectation in her visit. She believes that Jesus is dead. She expects to find his body in the tomb, wrapped in linens. But instead, she finds the stone rolled away. Immediately, her thoughts go to the worst.
So she came running to Simon Peter and the other disciple, the one Jesus loved,and said, "They have taken the Lord out of the tomb, and we don't know where they have put him!" (John 20:2)
How many times in our lives has something gone wrong and we automatically think it will ruin all of our plans? Sometimes we may think that this event could ruin our entire life. Maybe it is a lost career opportunity, a break-up with a significant other, or a failed class.
It is because of our limited expectations that we are blinded by disappointment when things don't go our way.
While we can only see a glimmer of the future, God sees the whole picture and story of our lives. Mary had the expectation that people died, that her Jesus was gone. So when she saw the stone rolled away, she thought the worse. Not only was her Savior dead, but someone had the audacity to remove his body from his tomb.
So she runs to tell the disciples and two disciples return to the tomb with her. And they agree. Their Lord is gone. And now they can not even grieve over the body.
But Jesus predicted his death to the disciples three times and they are recorded in each gospel. But he also said on the third day he will rise again.
In the midst of these heart-breaking circumstances, his followers decided to disregard what Jesus promised them. I told myself that I am not like the disciples when I first read these passages. I would have listened to Jesus. Instead of mourning, I would have been rejoicing at the empty tomb.
But that's not true.
We have God's promises in His Word, but when something goes wrong, we feel as if God has broken His promises to us. We don't run to Him. Some of us choose to run away.
Mary was the only person to stay at the tomb. The disciples left in anger or sadness and she once again believed she was alone.
John 20:11-15
 Now Mary stood outside the tomb crying. As she wept, she bent over to look into the tomb

 

and saw two angels in white, seated where Jesus' body had been, one at the head and the other at the foot.
They asked her, "Woman, why are you crying?"
"They have taken my Lord away," she said, "and I don't know where they have put him." 

At this, she turned around and saw Jesus standing there, but she did not realize that it was Jesus.
He asked her, 

"Woman, why are you crying? Who is it you are looking for?"
Thinking he was the gardener, she said, "Sir, if you have carried him away, tell me where you have put him, and I will get him."
"I'd stay in the garden with Him. 'Tho the night around me be falling…"
Mary is so blinded by her grief that she missed two important things that were right in front of her face. First, two angels approached her and she did not know it. Second, she saw a man standing in the garden with her and she did not recognize it was Jesus until he spoke her name.
Mary believed she was completely alone in that garden. But angels were there and so was Jesus.
Just like her, we are never alone in this life. God is there, calling our names. It is when we choose to look past our circumstances and listen to his voice is when we can find true comfort.
This doesn't mean everything that happens to us will suddenly make sense. It will only remind us of what does: Jesus died, Jesus rose again, and he is coming back for us very soon. All we have to do is seek his powerful voice calling out our names.
"And He walks with me. And He talks with me. And He tells me I am His own. And the joy we share as we tarry there
None other has ever known…"
Lyrics of "In the Garden" by C. Austin Miles
About the Author: 
Ellie Zumbach is currently a student at Malone University studying Creative Writing and Theatre. From a very young age, she has loved stories and their power to encourage, teach, and inspire. She is a proud member of a drama ministry team known as the Chancel Players and a co-director of the Writers Guild on campus.
Have You Read Our Latest Magazine? 
It features articles and interviews surrounding finding your purpose. Get yours in print or digital HERE.