Every morning after waking up, you prepare yourself to fight life and the battle ahead. However, the fight is not physical it's Spiritual.
Ephesians 6:12  says "For we are not fighting against flesh-and-blood enemies, but against evil rulers and authorities of the unseen world, against mighty powers in this dark world, and against evil spirits in the heavenly places." This verse warns us about the fight ahead, the problem that we have is that we put on the wrong equipment for the fight.
In order for us to be able to fight back, we have to equip ourselves with the right tools to fight and then watch the victories as they start to roll in. Many of us try to fight with the wrong equipment and then wonder why we are being knocked down or even knocked out. Ephesians 6:13 instructs us to put on THE FULL ARMOR OF GOD
Right now you're fighting scared because you haven't equipped yourself with the right weapons and the right armor. Be smart, our fights are like open book tests. The answers are already there, the question is will you study and prepare yourself before the fight or will you try searching for the answer(s) during the fight? Don't get caught trying to search for the right answer, study now so that when the fight is brought to you; you're already prepared to fight back with the word that has been planted and rooted on the inside. It will come out like a deadly combination punch and back your opponent into the corner where you can let loose
By unanimous decision, and still undisputed champion. He's the King of Kings and Lord of Lords, Jesus Christ!
About the Author:
Mika Washington is a 31-year-old journal writing enthusiast, who just decided to go for it. Journaling has been something she has always enjoyed. She says it helped get her through a lot in life and still does. Mika says just decided to write out loud and allow others to hear her thoughts because she was Created to Inspire!"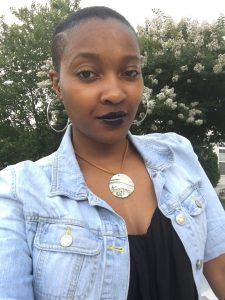 Have you downloaded the "Memoirs of a Virtuous Woman" app? Visit the App Store or Google Play to download it for your favorite articles, interviews on the go, weekly encouraging alerts and MORE!