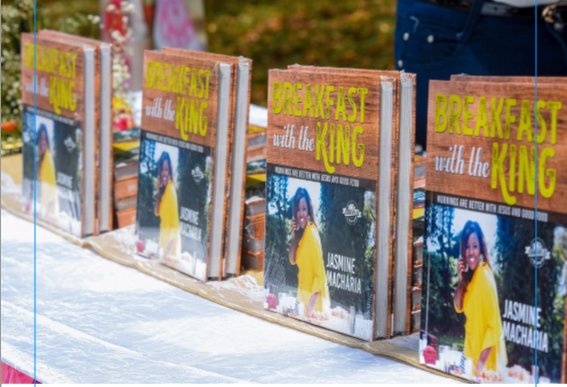 The following is a preview of an interview featured in our third magazine issue. Jasmine Macharia is the author of Breakfast with the King, a devotional and cookbook in one. Check out how she's inspired to share her love for creating beautiful dishes. 
MVW: What inspired you to create the "Breakfast with the King" cookbook?
Jasmine: God. This was a God project from start to finish. I was in my living room on a Tuesday morning waiting for a cab, then all of a sudden I heard a voice asking me, " why don't you do a book about breakfast?" At first I thought I was hearing my own things until I decided to take out my phone and write down how many breakfast recipes I knew at the time. I wrote 30 recipe titles in 10 minutes, and I immediately knew I was on to something. I had been wanting to write a book for so long but I never had a theme or felt like it was time. This time it felt different. Then the same voice whispered again, "What about a devotional?" At first I was confused. Did God want me to write a cookbook and a devotional separately or did He want me to do them together?
"People tend to read their devotionals in the morning, so a breakfast cookbook with a devotional was a perfect idea. It was all God! I can't take credit for that."
MVW: Obviously, it's not your ordinary cookbook. What can readers
expect when opening this cookbook?
Tell us briefly about the
devotionals. Jasmine: The devotionals were initially derived from any mention of food or anywhere in the bible where the context of food was used, i.e Thirst and hunger for God, Jesus feeding 5000, etc. Then it suddenly unfolded into something even more beautiful. I ended up sharing things that I had learned in my Christian walk, from lessons about contentment, the power of giving your best, to the importance of obedience to God and more.
To read more of our interview with Jasmine in our magazine available in print or digital click HERE.