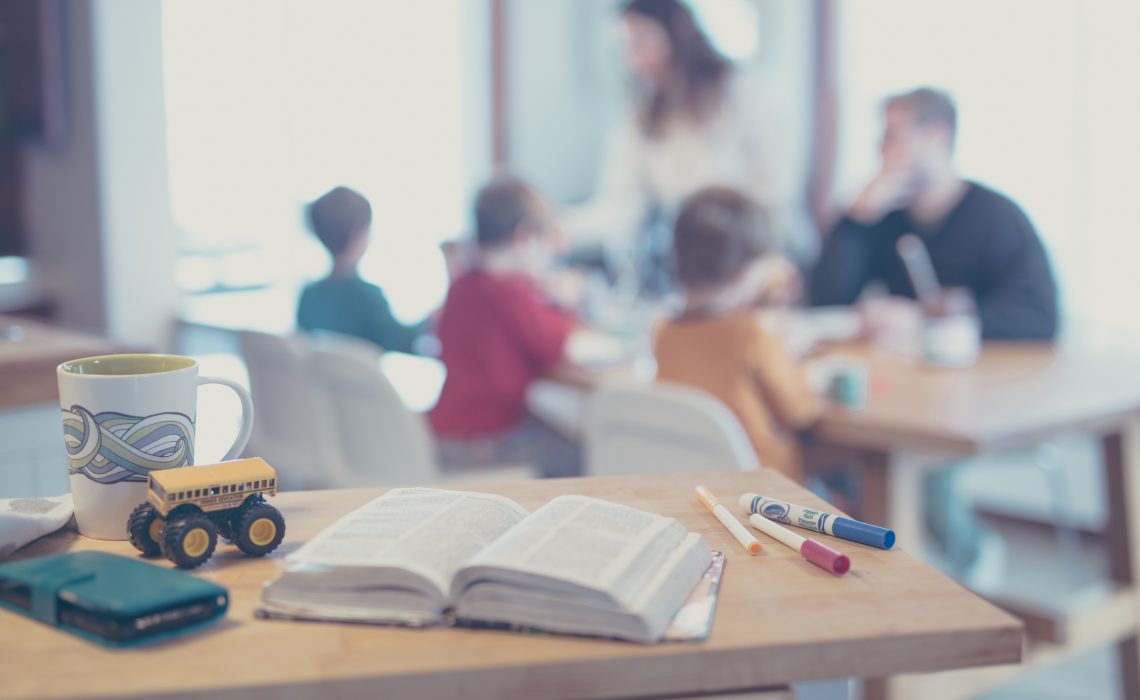 Some of the readers here at Memoirs of a Virtuous Woman are busy mothers and with the Fall season in full swing, we want to remind mom's everywhere on the importance of keeping devotional time a priority with their kids even after all the homework is done. To help, 2 women, shared their tips on what they do and what they have done in the past.
We start with Christine Wildman, who shares how she implemented devotional time with her kids while they were in school.
 "When they would come home from school I would have us all sit down for snacks at the dining room table and we had all different versions of Bibles. We would start with Psalm 1:1 and each person would read it in their version. Then we would discuss if there were any differences and why or why not did we think that. Eventually, I utilized this to teach them how to use a Strong's Concordance and Vines dictionary and how to do their own Bible studies to do word searches. It also gave us a short bit of time focused on the Bible when they got home, after our snacks.  During that time they could also take turns talking to me about what went on during the school day and then they would go off and do their homework. My children are all 30-somethings now and they all know the word very well." – Christine Wildman, of "The Wildberry Patch" blog.
Ana Nelson, a wife and mother of 3 children (and another bundle of joy on the way)  says family devotional time in her home looks really different depending on the ages and seasons we are in.
"I get asked, how do you make time when you are so busy with kids, house, in your case homeschool and all the demands? What if you have an energetic toddler? What time of the day is best? How long should it be? What devotional do you use?"
Ana answers her many questions that she receives from other mom's with 5 tips that will definitely motivate, inspire, and hopefully keep kids in the word.
1.) We Must Practice Being a Mary in a Martha World.
Housework can wait for 10-20 minutes while you sit at the feet of Jesus with your children. If you make it a priority, your children will see it. Those dishes? They can wait a bit longer. Hungry? Grab a snack and share it. The point is to MAKE time for your family devotional. I once heard someone say, "if you're to busy to read your bible, you're doing more than God intended you to do." So how do I have time? We make time.
2.) Busy toddler?
I have one, but had two others at one point. One thing that's worked for me in the past is teaching my kids, "Jesus time." It's where I placed a blanket on the ground with our bible out. A little snack,  a few blocks or if they are old enough, print a picture that has to do with your devotional and have them color it. This was my favorite thing to do with my girls. Color. Or make devotional time dramatic to capture their attention. Play-dough anyone?! Snuggle them as they sit on your lap! My little one loves that! Have them help you turn the pages. Involve them!
3.) What time of the day is best?
It all depends on your family. Some years we were able to do it while we ate breakfast. Other years before bed, remember #1? As long as you make time for it! Now, do give Hod your leftover time, I mean make time for it. It could be early in the morning, during lunch, when the kids get back from school, before dinner, during dinner, or before bed! Be creative!
4.) How long should a devotional be?
It really depends on the age of your audience. When my girls were ages 3-5 it was a bible story with a coloring picture of that story, this took us, 5-10 min. Ages 6-10 (now) we go in a little deeper into what that story is teaching, how does it point to Jesus, 10-15 min. Teenagers? You can have a real discussion on what God's word is calling you to you. At this age allow The Holy Spirit to guide your time!
5.) Which Devotional to use?
I get asked what devotional we used when the children were small we read straight from the Bible. Daniel in the lion's den, Moses and his staff turning in to a snake. Joshua and the Great Wall, Jesus and one of his miracles. When they got older we bought a devotional book called, "Jesus calling 365 devotional for kids," by Sarah Young. Oh, the kids loved that one! When I was a teenager I loved going back to the Bible to re-read all of Jesus's miracles! Straight from the Bible. Or you can simply download the app, " Bible," it's a little brown bible. They offer tons of devotional if ALL ages! We recently finished "7 keys to a great family. The author is unknown but it was beautiful!
Ana says while devotional time is important, it doesn't have to be long, deep, and "strict."
"It's supposed to be a time where you and your family sit at the feet of Jesus to learn. It's a time we all must make to learn more about the One who created us. It's a time we should look forward to. Remember that it's ok for your littlest to wiggle, it's ok for your children to just sit back and do nothing while you read, it's OK for your teenager to ask questions as they interrupt your reading. It's not supposed to be a perfect teaching time, it's supposed to be a small time to perfect us through Jesus Christ! One devotional at a time!" – Ana Nelson, of She Found Grace blog.
How are you keeping your children grounded in God's Word. Do these suggestions/tips help you? Let us know in the comments!