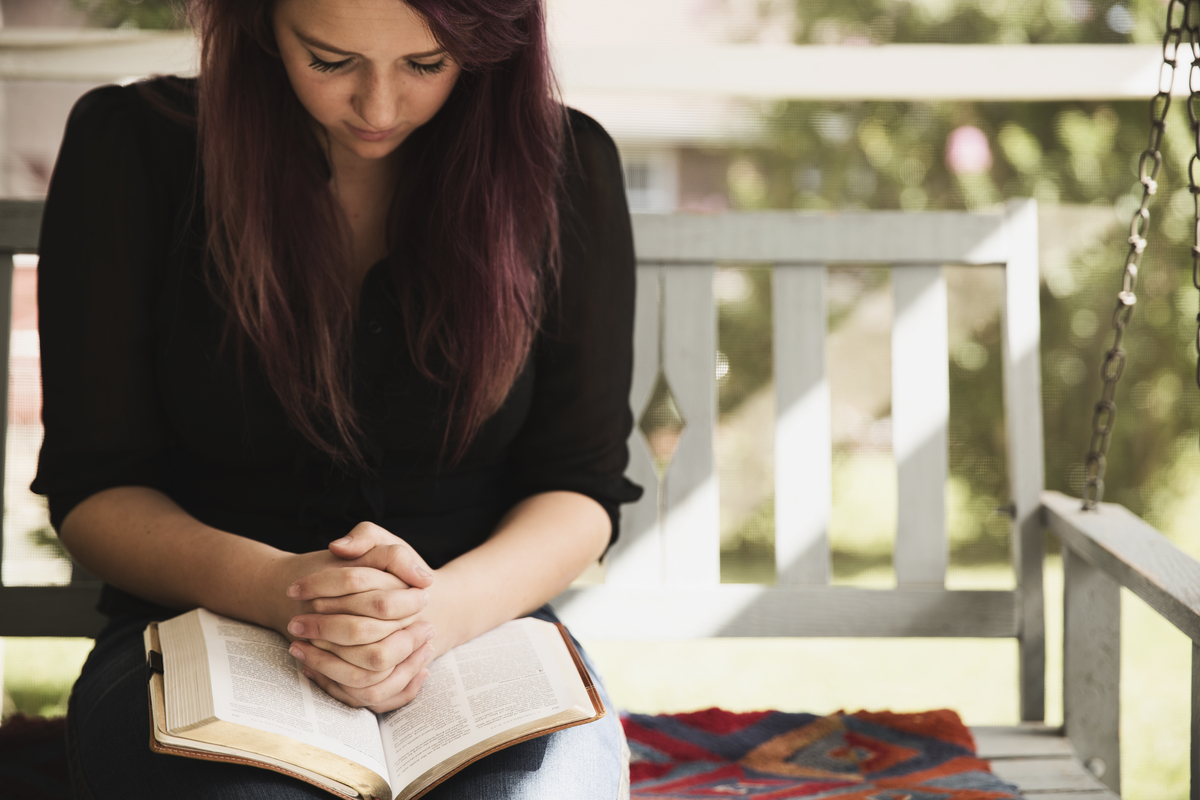 How's my faith?
Am I in a good place emotionally? Spiritually? If not, what's the real issue? How can I enjoy a more fulfilling faith?
Sometimes, I have to take a step back and examine things. What I really mean is that I have to examine ME.
There are times when I can spiral emotionally. I typically don't see it happen all at once, but it is more like a slow decline until I find myself in a dark place.
When I feel this negativity, I know there has to be a root issue at play so that's what I seek to understand. The unpleasant emotions are only my signal that something is wrong and most often, it traces back to my spiritual health.
What should be my expectations?
The Beatitudes reveal what can be ours in faith. Christ teaches how we can have a fulfilling faith if we will only heed His lessons. As I continue to study them, 2 more lessons emerge.
Happy are the kind and merciful, for they shall be shown mercy. Happy are those whose hearts are pure, for they shall see God. Matthew 5:7-8 TLB
I don't know about you but I need loads of mercy, as well as seeing God in my day, everyday, as a norm.
But this isn't a blank check. It has conditions.
When my faith becomes less than what Christ says it can be, I know I am the problem. Somewhere along the way, I have settled for less than what I can have in my faith.
If I'm not happy, then what's the specific issue? Is this a momentary phase brought on by difficult circumstances or is it becoming more than that? Even if I am experiencing challenges, God gives perspective for such times through passages like these in the Bible.
Even though the fig trees are all destroyed, and there is neither blossom left nor fruit; though the olive crops all fail, and the fields lie barren; even if the flocks die in the fields and the cattle barns are empty, yet I will rejoice in the Lord; I will be happy in the God of my salvation. The Lord God is my strength; he will give me the speed of a deer and bring me safely over the mountains. Habakkuk 3:17-19 TLB
This particular passage really convicted me several years ago as I was in a pit of despair. I could not seem to shake negativity because of the suffering we were experiencing as a family. But when God brought me back to this Scripture, I had to confess and repent.
There is always a reason to rejoice in our faith, regardless of our circumstances.
How can faith shape my mindset?
As I see in these two particular Beatitudes,we are offered keys that characterize fulfilling faith. And we can readily agree that a fulfilling faith has a profound impact on the rest of our lives. It basically sets the mood for our days, no matter what we may be going through, as the above Scripture in Habakkuk illustrates.
2 Keys characterizing a fulfilling faith are when we are-
kind and merciful
pure in heart
If I consider it, the people I most want to spend time with reflect these attributes. These are people who exude graciousness. They are easy to be around and they leave you feeling better off after having spent time together. I find that I feel loved and accepted around these type of individuals and it just beckons me back for more.
So the question is obvious to me if I am finding myself in a negative place emotionally- Why am I missing out?
What's the problem?
In my attempts to examine the root cause of sliding into a pit emotionally, questions from these two Beatitudes are helpful- Am I offering kindness and mercy toward others? What is keeping me from being kind/merciful? Is my spiritual darkness a cause of my own skewed perspective on something else?
When I consider obvious reasons for not being kind and merciful, the parable of the unmerciful servant immediately comes to mind from Matthew 18:21-35. It is interesting that the question from Peter that brought this story out of Jesus' mouth was a question on how many times he should forgive others who sin against him.
So the obvious connection on why I might not be merciful is that I may not be forgiving of someone. But because I keep wanting to understand better, I ask the next obvious question- What keeps me from forgiving others? Why do I hold back the mercy shown me and refuse to extend it to others?
2 symptoms of unforgiveness which stifle the mercy I am to extend to others.
Lack of examination of my own sin
Over-examination of the sins of others
When I spend my time finding faults with others, while dismissing my own faults, I am setting myself up for unhappiness. Hardness sets in and causes me to miss the plank in my own eye ( Matthew 7: 2-4 ).
Another conviction is that I am not loving as explained to me by 1 Corinthians 13:4-5.
Love is patient, love is kind. It does not envy, it does not boast, it is not proud. It is not rude, it is not self-seeking, it is not easily angered, it keeps no record of wrongs.
Therefore, if I am remembering the sins of others more than my own grievous sins against a Holy God, I am not going to experience the blessed life described to me by the Beatitudes.
Satan loves nothing more than to hold Christians in the bondage of unforgiveness toward others. This not only damages our own personal relationships and compromises our level of happiness, but it also hinders our relationship with God as the parable of the unmerciful servant reveals.
In truth, unforgiveness in the life of a believer has frightening implications!
What hinders my fulfillment in seeing God?
Some people seem to be able to see God in everything. They are usually hopeful, joyful, and encouraging to be around. What I have noticed is that unforgiving people are just the opposite. They are oftentimes easily offended, demanding, and rather negative. It's as though they go looking for the flaws found in this world and others.
What makes the difference in determining each perspective?
The above Beatitude says that when our hearts are pure, we will see God. This reminds me of Matthew 6:22-23.
"The eye is the lamp of the body. If your eyes are healthy, your whole body will be full of light. But if your eyes are unhealthy, your whole body will be full of darkness. If then the light within you is darkness, how great is that darkness!
It seems that it matters what we are looking for. If we are looking for the faults of others, then that is what we shall see. But if we are looking for God, the pure things He tells us to focus on first and foremost( Phillipians 4:8-9 ) then that is what we shall see. God's Word, the application of it for ourselves regarding attitudes and actions, will be a determining factor.
How I treat others impacts my relationship with God and my spiritual health in general.
If I know the Word but cease to apply it to myself, then I will most certainly see God and His activity less and less.
What's my takeaway for fulfilling faith?
By examining myself when I am swirling in negativity, I am able to learn from the Holy Spirit the root problem holding me back. If the fruit of the Spirit does not describe me (love, joy, peace, patience, kindness, gentleness, goodness and self-control), then something is wrong with ME!
When I am kind and merciful to others, this will open up the overflow of mercy into my own life. Being pure in heart, looking for the good from God rather than the faults of the world and others, I will readily see God all around me.
Our faith is meant to be the most satisfying aspect of our lives. Through the lessons from the Beatitudes, we can learn how!
Did this article encourage you?
Read more from the author Gretchen Fleming at Gretchenfleming.com. Gretchen is a Bible study teacher and speaker at Four Oaks Community Church in Tallahassee, Florida.
Have You Read Our Latest Magazine? 
If features articles and interviews surrounding contentment. Get yours in print or digital HERE.